Shōko-san making a fuss: reanimation
Source: TV
Layers: 1
Sketches: 10
Cel Number: A1-A10
Standard size

No Background

Added 11/19/2014



Here is the complete run of A-level dougas, with the B1 mouth layer added to the A1 image. I haven't attempted to replicate the dialogue that takes place during the scene, but I suggested the way in which the A1 and A8 keys break up this cut, with the inbetweeners coming in at a steady eight-to-a second.

Oh, but when the studio ran this series, the ending didn't look right to senior animation director Itō. So at the last minute, she drew one last shuusei, making Shōko's surprise at Karada's intrusion a little more emphatic.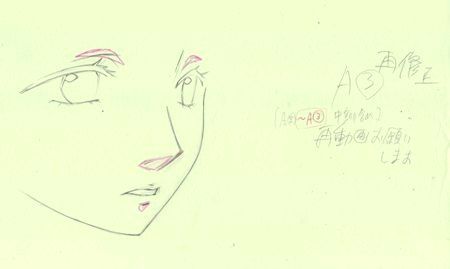 It intrigued me that the shuusei sketches for this episode, though unmistakably Itō's in style, did not contain the distinctive cursive "T⅔" kanji for "shuusei," which had become this animator's customary practice by Ep. 5. So it was reassuring to see the familiar "T⅔" in the notes beside the partial image of this sketch.

That change then led to two kabuse dougas, one for the end key (A10) and another for the inbetweener (A9) that led into it. When I flickered the two versions of the A10, I found that Itō's changes were by no means cosmetic:




Notice that the eyelids open wider in the corrected version, and the nose gets repositioned, and lots of small details get adjusted -- including the tilt of that endlessly challenging left eye!