Dracula: Sovereign of the Damned (Toei, 1980)
Source: Movie
Layers: 1
No sketches available
Cel Number: A2
Standard size

Original Unmatching Background

Added 7/4/2014
Updated 5/11/2015

Despondent over the tragic death of his son Janus, Dracula sits brooding in a dark cave overlooking Boston. Suddenly he is dazzled by a blinding light that enters the cave from the direction of the cemetery, where God has decided to raise Janus from the dead. Sequence number: A2.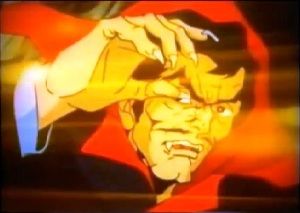 This cel appears at about 52:30 of the film, which is available on YouTube. The screen cap is of the A1 frame, as I could not get the next one to freeze.

When this cel arrived from Mandarake, it came with a severely trimmed unmatching background, suggesting that it was originally sold at Toei Studio's gift shop. The background may be from the same film, as it resembles one of the bookcases in Dr. Quincy Harker's office. It was unstuck and protected by a plastic sheet, so I've added a scan of the cel with this background as the first thumb, and the background by itself in the second. But for the image featured above, I scanned the cel against a dark blue background that is closer to its original setting.




SENSEI CHECK!

This 90-minute made-for-TV movie was originally titled 闇の帝王・吸血鬼ドラキュラ [Yami no Teiō - Kyūketsuki Dracula, or Emperor of Darkness - Vampire Dracula]. Produced by Toei, it was originally broadcast August 19, 1980 on TV Asahi. The 1982 English dubbed version by Harmony Gold has long been considered a camp classic by anime fans, somewhat like the cult status attained by Ed Wood's memorably awful film Plan Nine from Outer Space. Based on characters from a 1970s Marvel Comics series titled The Tomb of Dracula: Lord of Vampires, the story deals with a modern-day extension of Bram Stoker's classic plot. In this version, Dracula moves to the United States, where he falls in love with a woman named Domini (Dolores in the dub), whom he snatches away from a Satanic cult sacrifice by impersonating the devil. Loving her too deeply to make her a vampire, he fathers a child by her.

But Satan, angry over the theft of his intended victim, has the cult kill the child and strips Dracula of his magical powers, making the lord of vampires resort to a number of increasingly improbable schemes to gain them back. Meantime he is hunted by a trio of witless adventurers, including the wheelchair-bound Dr. Quincey Harker (son of Jonathan and Mina Harker from the novel), Dr. Rachael van Helsing (granddaughter of Stoker's Abraham van Helsing) and Frank Drake, a direct descendant of Dracula through a child he fathered prior to his evil transformation. Plus Elijah, a memorable vampire-sniffing dog who resembles Scooby Doo. Oh, and Dracula's son Janus does come back from the dead, even more improbably as a blonde-haired adult wearing a tight-fitting Marvel Comics superhero outfit. Watching the film from start to finish truly is a mind-altering experience.

It was directed (if that is the correct term) by Minoru Okazaki, a Toei regular who was series director for Dr. Slump and for the groundbreaking Dragon Ball series; he also served as an episode director for Dragon Ball Z as well as for Gegege no Kitarō (80s version) and other Toei projects. Character designer and chief animation director was Hiroshi Wagatsuma, who had handled episode AD roles for Microid S and later was chief AD for the 1981-82 Tiger Mask series. One must admit that the complex design of Dracula's heavily creased face, with expressive eyebrows and pencil-thin mustache, is one of the genuine highlights of the anime.

Dracula was voiced in the original anime movie by Kenji Utsumi (1937-2013), a seiyuu with a long and distinguished career, mostly in villainous or heavy roles. Beginning with a small role in the first 1963 Astroboy film, he played many secondary but memorable anime roles. These include La Seine, one of the first Western-style vampires to appear in anime, in the first (1968, black-and-white) Gegege no Kitaro series. Later roles included the magical dragons Shenron and KamiRyu in the Dragon Ball syndicate, the stern water god Glaucus in Syrius no Densetsu/The Fire Child and the Sea Prince, and Raoh, the chief antagonist in Hotoko no Ken. Younger anime fans might recognize his voice as that of Alex Louis Armstrong, one of the key supporting figures in the FullMetal Alchemist series. In addition to his many anime roles, he provided Japanese dubbed voices for Apollo Creed in the Rocky movies, Hexxus in FernGully, and Mr. Perkins in Despicable Me. In 2009, he received a lifetime achievement award at the third Seiyuu Awards.

Clips from the Harmony Gold English dub have been shown widely at anime cons during the past years, often accompanied by "Mystery Science Theatre" style sarcastic comments. Brian Price's "Bad Anime, Bad!" panel, a regular at New England cons for the last decade, often features some of the more surreal moments from this film. This website, complete with short .gifs from the film, gives good reasons why this film works so well in this respect. ANN's Justin Sevakis gives a more reasoned review of the film, but concludes that it is not just bad anime (i.e., painfully mediocre), but "shockingly, entertainingly, unforgettably bad."

Cels from this spectacular travesty don't seem to be plentiful. This one, well conserved by its original owner after being plucked from Toei's bin of souvenir cels, is the only one that I've ever seen come up for auction.


Click to open in new window