Chibi-Neko in a panic
Source: Movie
Layers: 1
No sketches available
Cel Number: A15
Oversize, 12W x 10H

No Background

Added 4/17/2014
Updated 4/18/2014



Afterwards Kitty-cat uses her innate homing instinct to return to Tokio's house, but holds back, still wanting to talk to Raphael again. But entering the bamboo thicket where their previous encounter took place, she encounters the remains of the dead cat Raphael had shown her earlier. An eerie voice from the sky commands it to live again. Kitty-cat, terrified, shouts Raphael's name.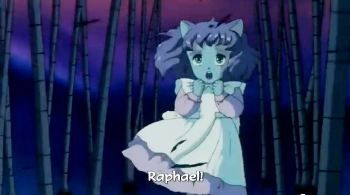 ... and in a delightful denouement, her shout (heard by humans only as a meow) alerts Tokio's mother, who finds the lost feline and takes her home. At the end of the scene, the perspective pans back, and we see Raphael's back, perched high above on a tree limb, and we realize that this is what the clever, solicitous tom wanted to see happen.