Mission Accomplished: Karada (early version)
Source: TV
Layers: 1
Sketches: 2
Cel Number: A1, A2
Standard size

No Background

Added 2/6/2014
Updated 11/9/2014

Cut 273. And Karada even more pleased that her creation is a success. In the first conception of this cut, Karada has her eyes open, with the fork to her mouth (but, oddly, with the bite of cake on the opposite end); then she leans forward, closes her eyes, and blushes with a contented smile. This is the version we see in the copy layouts:

A1: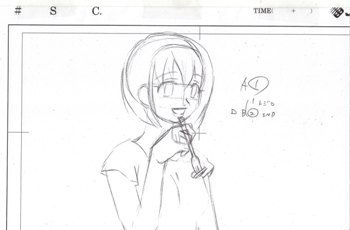 A2: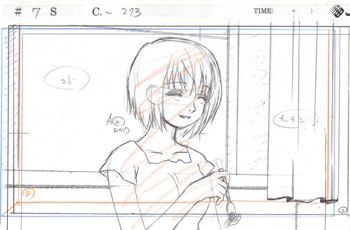 And it is interesting that in both the layouts and the roughs Masahiro Fuji worked up from these, the A2 position is worked out in the most detail. That suggests that the start position was seen for only a moment, while the end position lingered on the screen (and so needed to be better composed and finished). The rough for that end key is featured above: see how it turns her smile into a little embarrassed laugh. The less finished start key (making it look a bit as if Karada were picking her teeth) is added in the thumbnail.

Nice images, well composed and drawn ... but somehow just not Karada! Move ahead and see what Ikuko Itō made of this moment.




Caution! Fussy Notes

This sketch pack was also unusually complete. It included:


two copy layouts

two roughs and two rough shuusei

a genzu on pink paper with a schematic drawing of Karada's profile and making suggestions

four gengas, two for Karada and two mouth layers

four post-genga shuusei, two on light-salmon, two on light-green (correcting the A2 and adding a mouth layer image)

eleven dougas: A1-5 (Karada), B1-6 (her tongue)