The Old Man and His Son Make a Clever Trade
Source: TV
Layers: 2
Sketches: 1
Cel Number: A1, B3
Standard size

No Background

Added 1/28/2014
Updated 3/20/2014

This cel is from Episode 18, cut 137, according to notes on the top of the cel. That puts it in a tale that is titled ぼくの父さん世界一 [Bokuno tōsan sekaiichi], or "My dad's the best in the world." I think this is a version of Andersen's "Hvad Fatter gjør, det er altid det Rigtige" (1861), or in idiomatic English " What the Old Man Does is Always Right." ("Fatter" could mean "father" but is also used as a friendly way for a wife or a son to refer to the man of the house.)

The original tells of a peasant who goes to the market to trade his horse. On the way, he meets various people and impulsively swaps his animal for what they have, seemingly making a whole series of bad bargains. I think the cel was inspired by this moment from Andersen's tale:

Pretty soon they overtook a man who was leading a sheep; it was a fine-looking sheep, in good condition and well clothed with wool. "I certainly would like to have that," thought the peasant. "It would find plenty of grazing beside our ditch, and in the winter we could keep it in our own room. It would really be much more sensible for us to be keeping a sheep rather than a cow. Shall we trade?" Yes, the sheep's owner was quite willing, so the exchange was made.

I know, I know, it's a goat, not a sheep, but the episode (which I found on YouTube under the Japanese title) clearly makes many major changes in the plot. The farmer, for instance, now is accompanied on his trip by an enthusiastic young boy who finds delight in every new animal they obtain. Here the rather decrepit billy-goat that they now own is getting an admiring look from both father and son. Sequence numbers: A1 (father, son, and goat), B3 (son's mouth layer).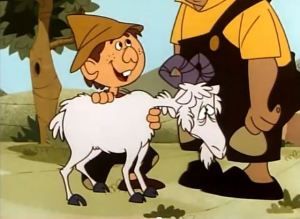 Click to open in new window