Malta doesn't like Syrius any more
Source: Movie
Layers: 2
No sketches available
Cel Number: A12, C21
Oversize, 13.25W x 10.5H

No Background

Added 1/28/2014
Updated 1/28/2014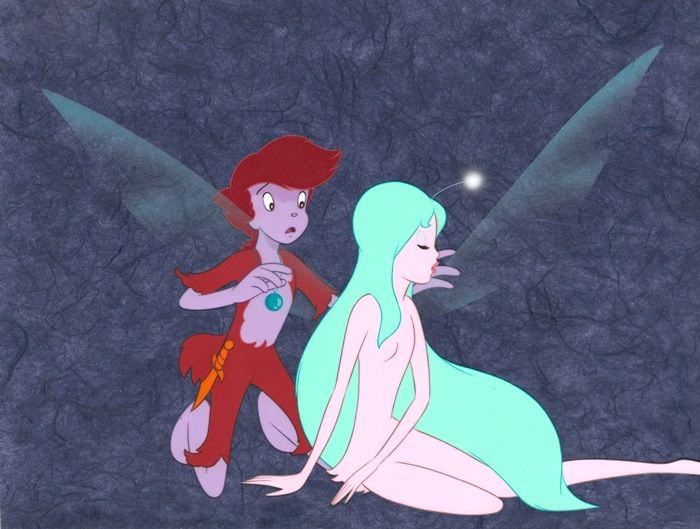 Cut 159d [of this scene]. The lovers' next meeting begins with a joyous romp in a field of flowers that the two gather up and throw at each other like snowballs. Syrius whops Malta in midair with a big petal-ball, and she dramatically crashes to the ground, then lies there limp and inert. Syrius is scared that somehow he's really hurt the delicate fire child and he rushes anxiously to her side. She slowly raises herself, then turns away, saying disdainfully "I don't like men who play rough!" Sequence numbers: A12 (Syrius), C21 (Malta).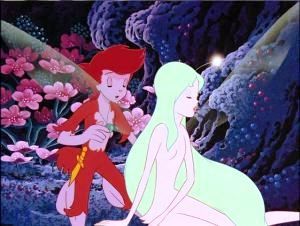 Poor Syrius! He's only had one love in his life, and now he's injured her and the much-anticipated passionate tryst is over hardly before it's well begun. Ah, but Malta is no fragile doll-baby, as we learn in the rest of the film, and the seeming lovers' tiff is just a tease she's putting on. As soon as Syrius is bending over her, stammering his apologies, she's going to stuff his face with a double-handful of flower petals, and the romp is on again.

This combination is not exactly the one used in the film, as the screencaps show, but it's a delightful set and well worth adding to my little collection of the star-crossed pair. It was interesting to find that another frame from this cut was used on the front page of a press pack distributed when the film debuted: