Mårten and Nils on the wing: Reanimation
Source: TV
Layers: 1
No sketches available
Cel Number: A12-A19
Standard size

No Background

Added 12/4/2013
Updated 12/4/2013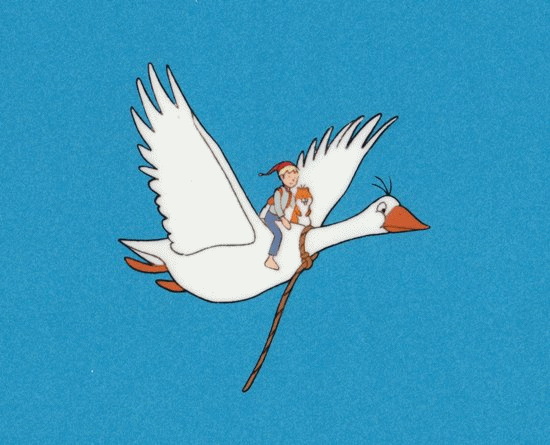 This especially full series included eight cels, A12 through A19, one complete wingflap. So I've let the animation loop to show the adventurous goose fly on and on toward Lapland (his goal). It shows Pierrot's careful observation of real flying birds. Notice that Mårten does not simply fly on the level but gently rocks back and forth, in tune with the wing flaps, in a relaxed rhythm. I find the action both realistic and soothing to watch, both here and in my new Anime-Beta avatar.

If you look at Carrot closely, you'll see that his mouth seems to move. I don't know if this is just an artifact of the very fine tracelining or if in fact he does have some dialogue, perhaps commenting on the part of Sweden they are admiring from on high.