Bad Girl taken aback
Source: OVA
Layers: 1
No sketches available
Standard size

Original Unmatching Background

Added 12/2/2013
Updated 8/9/2018

Episode 6, Scene 1, cut 18, according to the cel. Bad Girl encounters one shock after another as she explores the command spacecraft at the start of this episode. Sequence number: A13.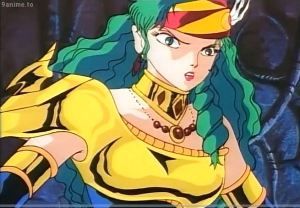 As fine a view of Bad Girl's face and torso as you could imagine. Her outfit seems to include armor, seemingly made of molten and forged gold, covering her breasts and right shoulder. I'm not sure what the function of the device on the top of the shoulder armor, which looks like a base for anchoring a length of rope.

The non-matching background has been trimmed for sale in Toei's gift shop. It comes from the same scene as "Big Gun," as the scene/cut indication begins "36..." but the notes on the cel show it is unmatching, Still, the atmosphere matches the mood of the cel nicely. I've added a scan of the bg by itself in the thumb.


Click to open in new window