Fushigi na Koala Blinky / Noozles (Nippon 1984)
Source: TV
Layers: 1
No sketches available
Standard size

No Background

Added 11/27/2013
Updated 11/27/2013

This series concerns a magical stuffed koala acquired by an Australian girl named Sandy. When she gives it an affectionate "noozle," or nose-rub, the toy comes alive and explains that he is, Blinky, a magical koala from Koala-Walla Land. He is soon joined by his mischievous sister Pinky, who pops in and out of Sandy's world, and a series of adventures ensue, in which Sandy visits Blinky and Pinky's world, which is inhabited by creatures based on wildlife native to Australia.

Unlike the anime's contemporary rival, Topcraft's Koala Bear Kocky (also adapted by Saban as "Adventures of the Little Koala"), Blinky/Noozles develops a complex long-term story arc. This involves the mysterious disappearance of Sandy's grandfather from Ayers Rock and the efforts of the two magical koalas to avert an imminent cosmic disaster, with the help of Sandy, her wise grandmother, and her archaeologist father.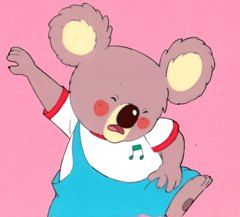 This anime was a product of the wave of koala-mania that swept Japan when the first of these animals were presented to a Tokyo zoo by the government of Australia Produced in 26 episodes by Nippon Animation, the series ran on Fuji TV in 1984 and soon after was licensed to Saban International Services, who adapted it in English as Noozles. Part of the first generation of anime broadcast on North American television in the late 1980s (alongside Nippon's Grimm Masterpiece Theatre, Pierrot's Mysterious Cities of Gold, and others), it set the stage for the widespread acceptance of anime there in the 1990s.

The series was directed by Taku Sugiyama, a veteran of the groundbreaking Toei animated films Magic Boy (1959) and Alakazam the Great (1960). Character design was handled by Isamu Kumata, who did the same for several Nippon "world masterpiece" series of the 1980s, including adaptations of Aesop's Fables and the Diary of Anne Frank. Animation direction was shared by Eimi Maeda, Takao Ogawa, and Masaki Abe. Abe has remained active in anime work up to recent times, and some of his work can be sampled in my Powerpuff Girls Z galleries.