What Natsuki Loves Most of All
Source: TV
Layers: 1
Sketches: 1
Cel Number: A1
Standard size

Key Cel
Copy Unmatching Background

Added 9/11/2013

Episode 25, cut 253. This dramatic cel shows the catgirl in the final scene of the series, back in her bounty-hunter uniform and pursuing a collar at full speed. Notice that unusual soft smile playing on her face: she's reflecting on her experience in this episode. Yes, this world is full of violence and crime, but it also lets her do things that she enjoys, in the company of people she likes. And so now she's exactly where she wants to be and chooses to be. Sequence number: A1.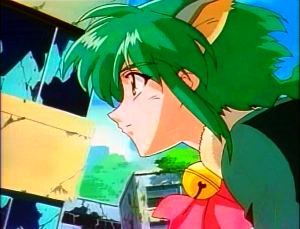 Click to open in new window