Natsuki in the Catbird Seat
Source: TV
Layers: 1
Sketches: 1
Cel Number: A15
Standard size

Copy Unmatching Background

Added 9/11/2013

Cut 67. From a continuation of the same cut that showed Natsuki at the start of this "alternative world" episode, this image shows Natsuki quickly retreating from the "camera's eye," her arms still crossed and crackling with the power to make the final decision for the monster-ridden world she hates and loves. Sequence number: A15.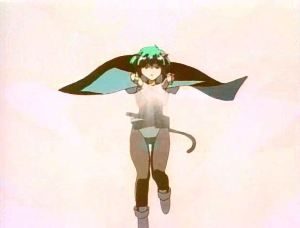 While the cut number fits the earlier use of this sequence of images, in fact the first time it appears, the track-back is cut short by a fade out before this cel appears. The second continues the action, showing Natsuki returning to the position and pose that she held at the start of this "alternative reality" interlude.


Click to open in new window