Human Natsuki on the Street
Source: TV
Layers: 3
Sketches: 1
Cel Number: A1E B1E
Standard size

Key Cel
End Cel
Book Cel
Original Matching Background

Added 8/30/2013
Updated 8/12/2018

Ep. 25 (Which Do You Like?), cut 94. Natsuki "remembers" a past when she was a normal human high-school student. Here she and a classmate are having ice cream and wondering what they will do after they are out of school. Sequence numbers: A1 E (cars and guy on cell phone), B1 E (Natsuki, classmate, trees and hedge).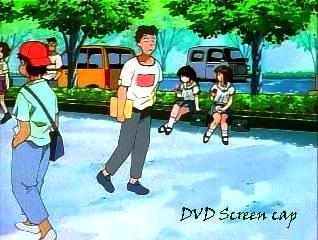 This is an attractive and interesting book set-up, with the trees and hedge behind the two girls painted onto the front of an unnumbered cel layer, which was then taped to the back of the B1 layer with the figures (and their bookbags). This creates a realistic three-dimensional feel, with the closer trees, painted in bright acrylic, seemingly much closer to the viewer than the muted watercolor trees on the background.

This setup originally would have had two more layers on top, showing random pedestrians walking in front, as seen in the holograph layout, added in the thumbnail. Notice the big "swirly mark" in the bottom right corner. That is where the episode director puts his personal stamp or initials showing approval of this frame. This "swirly," which also appears in copy layouts from other cuts in Ep. 25, must be the "OK" mark of episode director (and series director) Shinya Sadamitsu.

If you enter the not-so-secret password in "Private Area," you can visit the next item to see this setup partially disassembled.

[This setup was originally uploaded on 2/27/2006. I deleted this in 2013 to improve the large image, which I could no longer do the normal way.]


Click to open in new window