Papa holding Baby Noelle.
Source: TV
Layers: 3
Sketches: 1
Cel Number: A29, B29, D13
Standard size

Original Unmatching Background

Added 6/12/2013
Updated 5/8/2015

Cut 259. Hovering beside him on her broom, Baba tries to convince Papa to hand over the newborn, but he has already fallen under Noelle's spell. Sequence numbers: A29 (Papa), B29 (Baby Noelle), D13 (Baba).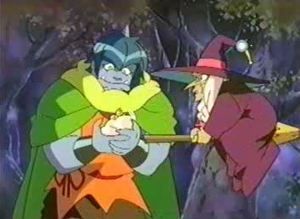 As you can see from the screen cap, this combination of cels is not an exact match; nevertheless, it is a cute image of this important scene. Notice that while the elder Papa resembles the Frankenstein monster of Western fame, he clearly began as a properly Japanese oni with the usual single horn poking up out of the top of his head.

The background is an unmatching one (from Ep. 69 of CCS) but has a similar impact to the original.


Click to open in new window