Natsuki passes her bounty hunter examination
Source: TV
Layers: 4
No sketches available
Cel Number: B6, C6, E6, F6 END
Standard size

Original Unmatching Background

Added 6/12/2013

Episode 11 (I Want the License). As the last stage of the skills examination, Natsuki has to engage in hand-to-hand combat with the hunky drill sergeant, who expects the match to be no contest. Unfortunately, he takes an opportunity to do a little ecchi feel, and that makes Natsuki's ultimate defense kick in, literally frying the naughty bastard. Sequence numbers: B6 (Sergeant), C6 (Sakura), E6 (Natsuki), F6 END (Natsuki mouth layer).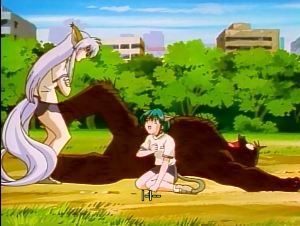 In sorting out cels to complete the image, the original jobber put them together by number rather than by their actual place in the cut. So the Sakura layer (showing her walking toward Natsuki) is too early, and the layer of the sergeant, who's putting up his hand to signal "Pass!" is too late. Still, an enjoyable image of a very funny scene.

I've given the cel a setting that is similar to the original, but it actually is an unused background from Cardcaptor Sakura.