Unico (Sanrio, 1979-83)
Source: TV
Layers: 1
No sketches available
Standard size

No Background

Added 5/28/2013
Updated 5/28/2013

The lead character of Osamu Tezuka's brief manga series has become of his most cherished and recognizable creations. A young unicorn falls under a divine curse to wander among the ages, staying in one time period only long enough to repay the one who offers him kindness. Then he is whisked away by Zephyrus, the West Wind, who erases his memory of the last adventure and leaves him helpless and lost in a new setting. The bittersweet premise, however, affirms Tezuka's faith that love continues to have meaning, regardless of the time, place, or even species of creature that reaches out to the vulnerable time-traveler.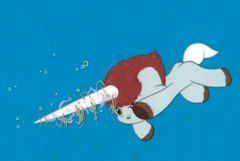 The original manga ran from 1976 to 1979 and was published in color, one of Tezuka's many touches of extravagance. Even as it was winding down, he was working on an anime adaptation. His first idea was a TV series similar to previous adaptations such as Astroboy, Princess Knight, Kimba the White Lion, and Black Jack. A pilot for such a series was put together by Tezuka Productions in 1979, but was never produced. Tezuka then put his efforts into two movies, Unico (1981) and Unico in the Island of Magic (1983). A brief, ecologically-oriented short, Saving Our Fragile Earth (2000), was later made for the Tezuka Osamu World's movie theatre.

The first two of these anime adaptations are more closely linked to the manga, and so they interest me most. The Unico pilot adapts the manga chapter "Black Cloud and White Feather" and was directed by Toshio Hirata, who later directed the anime version of Tezuka's Phoenix. Animation supervision was shared by three long-time associates, Shigeru Yamamoto, Kanji Akabori, and Masami Hata.

The Unico movie (released in North America as The Fantastic Adventures of Unico) followed soon after. It too was directed by Hirata, with animation direction by Akio Sugino, likewise a long-time Tezuka collaborator. It combines two episodes, beginning with the manga's concluding episode, "Unico and Solitude," in which the little unicorn manages to befriend a demon. The original sad ending of this adventure is, however, altered to allow the demon (now named Beezle) to travel with Unico on his time trips, and so the two become involved in "The Cat on the Broomstick," a story of an abandoned kitty who wants to become a witch's familiar.

Thanks to Tezuka Productions' keen sense for merchandising, cels from these productions were better preserved and are more widely available than other anime series of the time. The cels of Unico, particularly in his transformed adult unicorn form, seem to be the most keenly desired, but I admire the creator's ability to populate his plots with memorably quirky characters. So I'm more apt to pick up cels from this supporting cast.