Suigintou Confronts Jun 2
Source: TV
Layers: 1
Sketches: 1
Standard size

No Background

Added 5/28/2013

Jun rejects Suigintou's bargain, and, to her surprise, he manages to free his legs and begins moving forward. "That's not very nice," the irritated doll responds, "and it won't do you any good anyhow." And with that she begins to bombard him with magical feathers from what remains of her cape.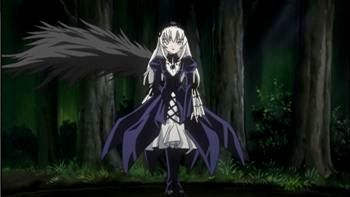 This nearly complete rough, I believe also by assistant sakkan Masaru Kitao, came with the sketches from the previous set. Although the cut in which it appears came later on in this scene, it shows Suigintou against the same background, but from a slightly more distant perspective.