The Final Battle: Shinku Attacks (Roughs)
Source: TV
Layers: 1
Sketches: 3
Cel Number: B2, B3, B4
Standard size

No Background

Added 5/28/2013

The first exchanges in the fight are inconclusive, for Suigintou is still a master of attack magic, while Shinku's powers are largely defensive. However, backed by the charisma she draws from Jun, Shinku draws and neutralizes her opponent's most powerful weapons, and the villainess's reserve of power starts to draw low. Suigintou backs off into the air above the lake, and with a burst of energy Shinku soars up after her.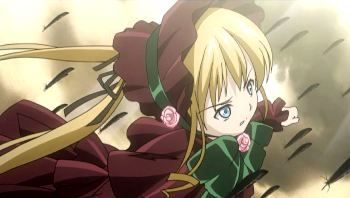 This fine series of roughs, like the previous sketch, is in the distinctive and energetic sketching style of the series's chief animation director, Kumi Ishii. Featured is the terrific B2 rough, with Shinku fully in the frame and close up. It is, like many images from this series, a wonderfully complex composition. Rather than a simple head-on or profile shot, Shinku is rising up to the camera's level at a three-quarters pose, both arms held out on opposite ends, every part of her costume in motion.

The foreshortening of her left arm, pointing almost directly away from the viewer, is tricky but well handled, while you could look forever at those complex details of the costume, drawn in nearly every color in the animator's pencil drawer. Truly, every part of this image is moving against every other part: the body invisible but giving mass to what we can see (but the right knee flexed forward), the rippling, fluttering doll clothes, and that watchspring hair, half flying behind her, half caught between Shinku's arms and her extravagant collar bow.

The only part that seems at rest, oddly, is her right hand, which is trailing behind in a soft, unclosed fist, while the left fist, pointed more stiffly away, is rock hard. (We'll see why shortly.) As the cut continues, she soars up up and away from the viewer rapidly. The thumbnails show the simpler (but still lovely in their lighter-than-air way) B3 and B4 roughs.


Click to open in new window