Hijiri warns Chiaki to be on his guard
Source: TV
Layers: 2
Sketches: 5
Cel Number: A1 B1
Standard size

No Background

Added 1/12/2013
Updated 4/26/2013

CAUTION! IMPORTANT SPOILER IN DESCRIPTION!

Scene 22, cut 19. The teacher is annoyed at having his conquest interrupted at the critical moment, but he knows he still holds the high ground, so he remain content to defer his inevitable victory a few more hours. Nevertheless, he can't resist muttering to his pesky rival as he passes, "You'd better be careful after dark, too – it's no time to be out playing children's games."

Chiaki blanches and realizes that Hijiri-sensei now knows that Maron is Jeanne and is also aware of his secret identity as Sinbad as well.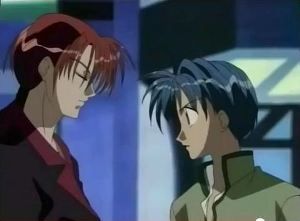 And one has to feel sorry for Chiaki, ne? The lad has crossed his Satanic bosses, after all. And now, for all his diabolical work in distracting Holy Jeanne, he faces a punishing magical attack in reprisal for getting in his master Hijiri/Noin's way.

I've featured Yoshihiro Sugai's very fine set of roughs above. These were actually sketched on separate sheets, as Hijiri moves left to right, muttering his warning just as he passes behind Chiaki. Likewise the gengas (first thumb) were on separate sheets. But as the set came with a helpful guide to show how this cut would work (second thumb) I digitally combined both the roughs and the gengas to save space.


Click to open in new window