3. Haruhi sees a way out of her fix
Source: TV
Layers: 1
Sketches: 1
Standard size

No Background

Added 1/9/2013
Updated 1/26/2019

Episode 3 [Beware the Physical Exam!], cut 91. Everyone at Ouran Academy has to undergo a medical examination, and if her true gender is revealed, Haruhi will need to leave the Host Club. The others fret over this possibility, but she begins to wonder if this outcome might not be such a misfortune after all. It would, after all, liberate her from the involuntary labor situation she's gotten herself into. This in turn makes Tamaki, the club's leader, bristle in response.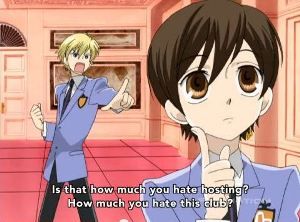 The really impressive sketch featured above (a genga shuusei, probably, as the douga images are identical) is probably the work of the episode's animation director, Hideyuki Motohashi.