5. Which is Hikaru and which is Kaoru?
Source: TV
Layers: 1
Sketches: 3
Cel Number: A1E, B1, C1, C3
Standard size

No Background

Added 1/9/2013
Updated 1/26/2019

Episode 5 ["The Twins Fight!" Futago Kenkasuru (双子ケンカする)!], cut 91. This episode deals with a series of tricks by the indistinguishable twins, Hikaru and Kaoru, to earn a visit to Haruhi's house. In this move, they are offering to give up the quest if Haruhi can correctly identify which of them is which.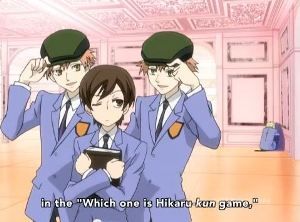 The nice sketch above, a post-genga shuusei because of its partial nature, is probably by the episode's animation director, Yuka Kudo. A distinguished and wide-ranging artist, Kudo had previously served as character designer and animation director for Full Moon o Sagashite (2002-03) and Kyo kara Maoh! (2004). This artist continues to be active, contributing to the recent hit Is This a Zombie?

The thumbnails add two of the layouts, one similar to the rough and showing the three principals, while the other just adds Hikaru and Kaoru's Cheshire smiles and has a tiny image of the other character who's curled up despondently in the corner.

PS, according to notes on the layout, that's Kaoru on the left and Hikaru on the right.


Click to open in new window