Busted!
Source: TV
Layers: 4
Sketches: 5
Cel Number: A2, B4E, C2, D4E
Standard size

Key Cel
End Cel
Original Matching Background

Added 11/9/2012
Updated 2/8/2016

Ep. 19 (There is No Tomorrow for the Cats?), cut 63. Natsuki is undercover in a tough neighborhood trying to get information on the Cat Crusaders, a feline outlaw group that has been committing petty robberies and distributing the proceeds to the poor. She happens to look around a corner at the wrong moment, and a young juvenile delinquent catgirl on the run from the law (named Mao, appropriately enough) slams into her.

The robotic police officer in pursuit promptly arrests Mao -- and Natsuki too, on the grounds that any cat out on the streets during the crime wave is probably in violation of the law in some way. So as soon as the two look up, they find themselves behind bars. Sequence numbers: A2 (Natsuki and Mao's bodies), B4E (heads), C2 (eyes and mouths), D8E (jail bars).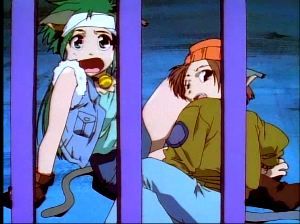 This cel was part of a slick bit of studio magic. The first part of the cut showed the two looking up from the sidewalk where they'd been accosted. Then a top layer with the jail cell bars slides across, and the background dissolves into a dingy cell floor. I got only the second background, but I was happy to find the jail bars layer among the extras that I got with this lot.

The dougas were all partials, but I've digitally combined them into one image to save space.

UPDATE! In a later auction I was able to pick up the genga that matches this setup, along with some additional extras.


Click to open in new window