The adventurers celebrate a victory
Source: TV
Layers: 1
Sketches: 3
Cel Number: A1 END
Oversize, 19.5W x 8.5H

No Background

Added 11/8/2012
Updated 1/26/2017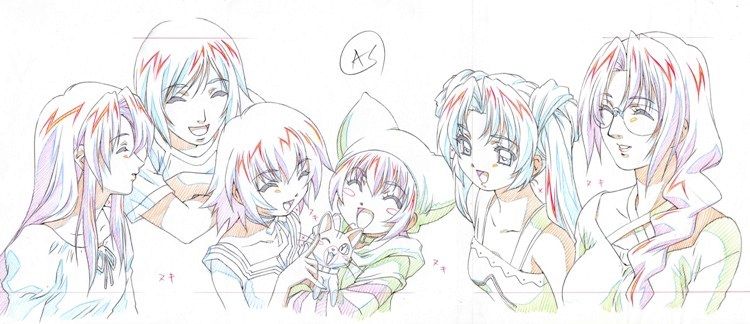 Episode 9, Cut 217. As a result of the bunny-suit job, Tomokazu and Mizuki realize that in both worlds their happiness depends on their sense of togetherness. This insight (and a scene change) is marked by this long A1 END pan image of all the adventurers in their "everyday world" avatars, celebrating a "mission accomplished" moment. From left to right you see:

1. Mizuki, Tomokazu's traditionally shy high school girlfriend.

2. Tomokazu, the "loser pervert" protagonist who happens, in typical moe style, to possess a certain charisma that gives the other characters the magical powers they need to defeat a bunch of mysterious dream-world baddies. (See the Rozen Maiden gallery for a much more inventive take on this common anime trope.)

3. Mone, the mysterious prepubescent girl Tomokazu encounters in his dream world and brings back to his everyday world.

4. Koneko, the cute curly-tailed magical kitty who seems to be at the center of this particular victory party.

5. Neneko, Koneko's owner, a second mysterious prepubescent who is drawn into the circle of Tomokazu's dream-world adventurers. She may in fact be an alien cat-girl, as it's unclear whether her bonnet is a robotic toy or a cloth cover for her real ears.

6. Kuyō, Nanase's irresistibly cute younger sister.

7. Nanase, Tomokazu's cousin and protector (his parents having died long ago of one of the customary anime maladies) who turns out to be surprisingly familiar with the dream-world and a capable adventurer. Plus she's (naturally!) sexually interested in her charge.





This pan image, which begins and ends with a heavy fog effect, appears at 21:12 of the episode. The long, thin horizontal (19.5 x 8.5 in.) genga isn't well served by RS's autoscaling, so I've imported a slightly larger image from my image housing site. Scaled-down images of the nice layout and douga are included in the thumbs, but you'd really need to have all of these well-done sketches in front of you to appreciate them.


Click to open in new window