Palme mistakes Popo for Xian
Source: Movie
Layers: 1
Sketches: 1
Cel Number: A6
Oversize, 13.5W x 9H

No Background

Added 11/8/2012

Then suddenly Palme's intense flashback ends, and he is back standing on the deck of the boat. He sees Popo holding the lute-like instrument, and suddenly his face breaks into a happy smile. "Xian!" he calls to her. Sequence number: A6 .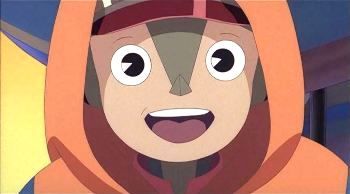 The sequence number was outlined in a triangle, the customary sign that the image was based on a planned in-betweener sketch. These are not as finished as genga (key) sketches, but they do show that this particular image was based on the key animator's suggestions.


Click to open in new window