Roualt in a Shipwreck
Source: Movie
Layers: 1
Sketches: 1
Cel Number: A2
Oversize, 14.75W x 9.5H

No Background

Added 11/8/2012
Updated 4/14/2017

Shatta has tried to intercept the boat that is carrying Palme down the river, but he arrives too late: the Hunters have already attacked and kidnapped the puppet with the crosskala-laden Egg. In the mayhem that ensues, a huge wave capsizes the watercraft that poor Roualt is trying to keep ready for Shatta's getaway. Sequence number: A2.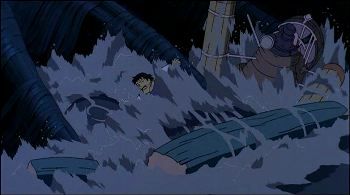 The detail in this cel is amazing, considering that it goes by in a flash. The douga is also very detailed in its attention to Roualt's little watercraft and the rough water it's in.


Click to open in new window