Malta Greets Syrius
Source: Movie
Layers: 1
No sketches available
Cel Number: A4
Oversize, 13.5W x 10.5H

No Background

Added 7/28/2012

Falling deeply in love during their second meeting, the two youngsters agree to meet again in secret the next evening. Meantime, Malta has received bad news that promises to bring their relationship to a premature end, and so she is anxious as she waits on the shore for Syrius to appear. Finally, there is a splash, and she looks up in relief and delight to see his face appear in the water. This cel appears at 41:14 in the film. Sequence number: A4.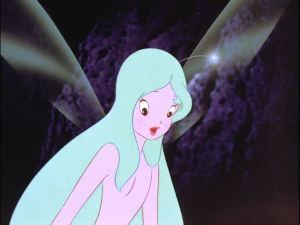 This beautiful cel arrived wrapped in a cut-up dry cleaner's bag! I was concerned, as the airbrushing on these cels was done on the front and was not given the protection (customary later on) of an extra blank cel layer on top. Happily, the cel was in fine shape for its age, with only a few hairline scratches in the delicate wings. It's a well-centered image of this character in a highly-charged emotional scene, so I'm delighted to add it to my little collection of cels from this film.