Tōko Amino listens skeptically to Hiro
Source: TV
Layers: 1
Sketches: 3
Cel Number: A1 B2
Standard size

No Background

Added 5/3/2012
Updated 8/25/2018

Cut 163. This minor character is Tetsu's older sister, who works at a local café that Hiro visits for lunch. He stops by regularly, so she's followed the crises caused by Shōko's reappearance in their town and then by Karada's disappearance. Though dubious, she's accepted Hiro's explanation that the little girl is away visiting relatives. But now (as we recall), she's seen him heading home with a new girlfriend in tow at the end of Chapter 5. She makes inquiries, and, alone with him in the café, cuts straight to the quick: "You're living with her, aren't you?" (I.e., the pretty stranger who's actually the little girl Karada in adult form.)

Hiro manages an innocent explanation of this to the visibly dubious Tōko, who presses further – "And what about Shōko-san?" – making him choke momentarily on his lunch. Here she's listening even more skeptically as he tries to come up with a second, minimally plausible explanation.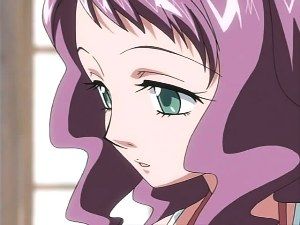 This simple cut came with an A1 genga, accompanied by a series of partials showing Tōko's eyes narrowing as she listens. She knows he's lying but can't fathom why or what actually might be going on. Featured above is the nice A1/B2 (skeptical eyes) genga. The sketch set shows that there was some discussion among the animators about her right eye. Originally, the layout (first thumb) shows, she was to be shown in full profile, but at some point this was changed to the much more difficult three-quarters profile, with Tōko's other eye just visible past the bridge of her nose.

The second thumb shows Masahiro Fujii's rough, which initiated this change. (Notice the "Yoroshiku onegaishimasu" to the left of the face.) Though pretty overall, probably (possibly Fujii's supervisor, Ikuko Ito) flagged that troublesome right eye, and a series of shuusei sketches (not imaged) gave it a little more detail and prominence. As Tōko's skepticism is the focus of this short cut, it evidently was important to get that difficult perspective exactly right.

It is interesting that three-quarters profiles are used so often and in such important scenes during this series, and not just during the odd-numbered episodes overseen by Ito. That in itself gives Asatte art a characteristic look and feel. In the next gallery, watch for more, even more important three-quarters profiles from Episode 10 (one that Shinya Hasegawa oversaw).



Click to open in new window