Dispel: A1 genga
Source: TV
Layers: 1
Sketches: 2
Cel Number: A1, A2
Standard size

No Background

Added 5/1/2012
Updated 4/22/2017

The first story-arc OP animation gave the ostensive chief-villain Dispel an elaborate introduction, beginning with this intense close-up. This gives us a detailed view of his white-face "killer clown" facial design, complete with fangs and lower eyelashes that look like paint but actually dangle in front of his face.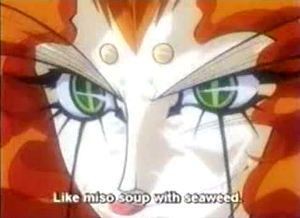 The original plan was for this cut to last longer, but if you visit the rest of the items in this gallery, you'll see how it was cut back in several ways during production. As you can see from the screen cap (the first that can be frozen), the actual OP animation that was used begins a little after this image, with Dispel's prehensile tongue already out and licking his chops. An A2 partial genga (first thumb) worked out this action. From what I can tell, the first cel actually used in production comes from just before this A2 partial.

Anime Cel Incognito has a cel from the start of this cut that is very similar to this key, except that it shows Dispel's tongue starting to show.




SENSEI CHECK!

Mitsuo Iwata, who voiced Dispel, is a distinguished actor with a lengthy dossier of other roles, ranging from the lead role of Shōtarō Kaneda in the movie Akira to Kintaro in Golden Boy. He was also chosen to dub the role of Peter Pan in the Japanese release of the classic Disney animated film. Wikipedia calls him "truly one of the greatest seiyuu."


Click to open in new window