Dispel: A4 genga
Source: TV
Layers: 1
Sketches: 3
Cel Number: A4-A6
Standard size
Opening Cel

No Background

Added 5/1/2012
Updated 6/25/2017

And here Dispel leans over to the right, while still looking sideways at the audience in a very sinister way.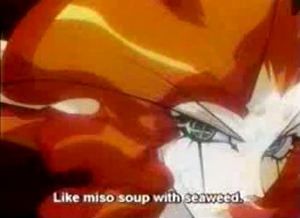 My Dispel OP cel (the A10) fits in just a hair before this key.

Now the cut goes freaky. The A5 genga (first thumb) shows Dispel in full profile going radically SD and sticking his tongue out as far as he can (which is disturbingly far).




Then he whirls rapidly to the left, his tongue barely missing the inside of the TV or laptop screen (A6, second thumb).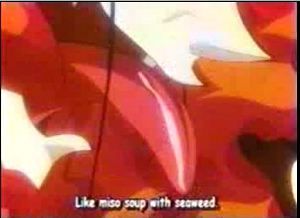 A helter-skelter series of images follows rapidly: difficult to interpret visually, they turn out to be close-up images of Dispel's tongue, hair, and parts of his shoulder pads. They whip by in close succession (gengas A7-A9, not imaged) and a swish of his cloak reveals the darkness behind. All of this does appear in the broadcast OP, though it is impossible to register it unless you screen the footage frame by frame.

At this point the broadcast footage jumps without any transition to one of Dispel dancing crazily in the middle background. The sketch set is missing the keys from A10 to A13, so it's impossible to tell what else was planned to illustrate Dispel's quick turn. Perhaps the images just got too helter-skelter, and on viewing the footage the studio found it too confusing. In any case, neither these nor the surviving keys A14-A18 were ever seen by viewers.

Move on to the next items to get a glimpse of what the original version of the OP might have looked like..


Click to open in new window