"Did you have someone you liked?"
Source: TV
Layers: 1
Sketches: 3
Cel Number: A4
Standard size

No Background

Added 4/29/2012
Updated 8/24/2018

Cut 106. We next see Shōko from the back (as if through Karada's puzzled eyes) as she moves to the window and gazes out silently. Then we hear Karada's voice as she precociously guesses why her companion has become so moody all of a sudden.

"Did you have someone you liked/loved?" (The Japanese idiom suki da aru could suggest a wide range of attachment, from "just friends" to "sexual partners.")

Shōko, a little taken aback, stops and looks back at Karada.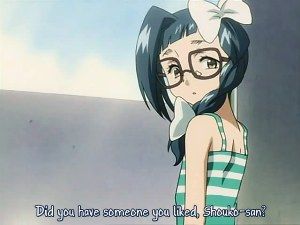 This time I've featured the very effective A4 genga, which picks up the complex mix of wistfulness and slight bashfulness that the inquisitive young-girl-grown-old has awakened in her little senpai. The thumbs show Fujii's light-salmon rough (with an inappropriate touch of superiority) and Ito's heavily worked-over light-green shuusei rough. That sketch comes closer to capturing the complex mix of emotions that Shōko's expression needs.

This is, after all, one of those "moments between them" when Shōko realizes that her return to childhood makes her stop and appreciate the peculiar joys of the adult life she's temporarily lost.

The differences are subtle, but the eyes tell it all.


Click to open in new window