"You were beautiful then, weren't you?"
Source: TV
Layers: 3
Sketches: 3
Cel Number: A1 B2 C1
Standard size

No Background

Added 4/29/2012
Updated 11/9/2014

Cut 107. Karada turns around (still on her knees, so she's looking up at her little friend) and babbles a little: she's just been trying on her clothes and accessories, which make her look sexy and glamorous. And so (the girl-grown-up suddenly realizes) Shōko must have been even prettier wearing them herself. And (by implication) she too was sexy.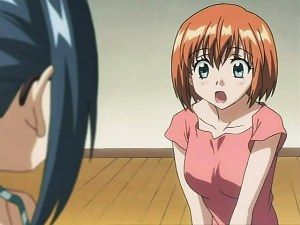 Featured again is the A1/B2/C1 genga image showing the whole start combination. Fujii's well-done light-salmon rough is in the first thumb. Shōko remains still through the whole cut, but after all the pieces that Karada's suddenly put together in her mind come bubbling out, she stops. Then, thinking she's said too much, she droops a little in anxious embarrassment. The second thumb shows this moment of bashfulness.

Notice that, without thinking about it much, Karada's droop makes her bust bulge out a little. That's not Sensei's dirty mind at work here: Ito's (unimaged) shuusei roughs and post-genga shuusei sketches worked over that part of the image verrry carefully, little by little accenting the little changes in the bulges and cleavage that occur as Karada bends over.


Click to open in new window