Tokio brings Chibi-Neko home
Source: Movie
Layers: 1
No sketches available
Cel Number: A25
Oversize, 12W x 10H

Original Unmatching Background

Added 1/26/2012
Updated 4/18/2014

One day, Chibi-Neko causes trouble by climbing up on the dinner table and trying to eat with chopsticks. In anger, Tokio, the cram-school student who adopted the homeless kitten, yells "Baka!" at her and swats her on the head. Hurt by this treatment, Kitty-cat runs away from home. (Cat-girls hate being called "Baka"!)

But Tokio quickly regrets his angry act and comes after her. Visibly apologetic, he's gently carrying the prodigal Kitty-cat back home in this image.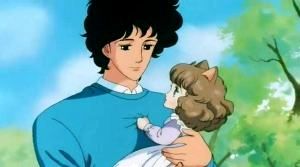 As you can see, the background is non-matching, but it's pretty and looks to be from the same era as the cel, so I've kept them together. Notice the almost imperceptible puff of airbrushing on Chibi-Neko's cheek.