Palme Grabs Popo's Arm
Source: Movie
Layers: 1
Sketches: 2
Cel Number: B9
Oversize, 12W x 15H

Key Cel
Original Matching Background

Added 1/26/2012

Cut 816. Despite Popo's resistance, Palme manages to grab her arm, and when she continues to pull away, the puppet's sleeve separates from his glove, and she sees with horror that he's not a human boy but an android with cables running down his arm. Sequence number: B9.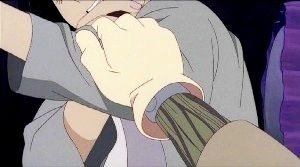 This oversized set-up allows for a dramatic pan down from Popo's terrified eyes to Palme's exposed "arm." The two screen caps could not be combined, as the girl continues to struggle and pull on the android during the pan, and so the two poses do not match up. This of course means that a full set of oversized cels needed to be painted for the scene, even though viewers would never see the whole of any of these images. You can see the copy layout giving a sense of how this cut would work in the second thumb.

Palme cels, plentiful soon after the movie wrapped, have dried up considerably, and it was pleasant to see this impressive set-up on Mandarake after a long wait.


Click to open in new window