Zakuro returns Palme's gloves
Source: TV
Layers: 2
Sketches: 2
Cel Number: B34, C22
Oversize, 13.25W x 9H

No Background

Added 1/24/2012
Updated 4/14/2017

Puzzled by Palme's behavior, Mu and Bu take him to the gang's doctor, a wizened figure called Zakuro. His examination reveals that the "child" they have taken in is in fact a puppet made out of kooloop wood. A bit apologetically, the doctor returns the doll's gloves, needed to cover up his mechanical hands.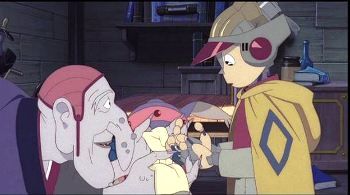 I put this together out of a lot of discarded cels. It's not matching, as the cel of Zakuro has gaps where Palme's hands would show through in the full image. Still, this strange character is hard to find, so I was happy to add an image of mine to this gallery of odd sorts.

The sketches were on separate sheets, but I've combined them digitally to save space.


Click to open in new window