Noelle Glomps Yuusuke: reanimated gengas
Source: TV
Layers: 2
Sketches: 16
Cel Number: E1/F1-F16
Standard size
Opening Cel

No Background

Added 1/22/2012
Updated 3/7/2013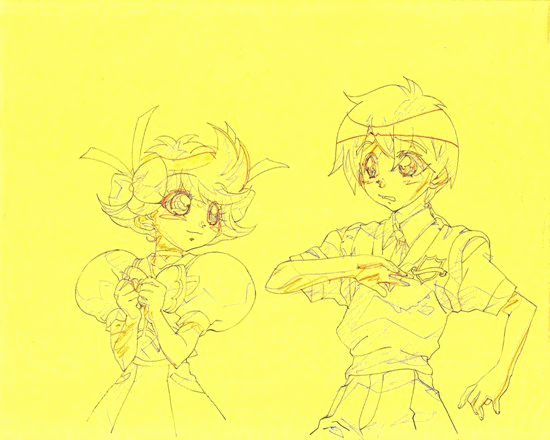 And here is the entire set reanimated. I played around with the timing before going with a basic 8-to-a-second speed that seemed similar to the final version. Noelle's acrobatic glomp is amazing even at this slower speed, and without knowing how many inbetweeners there were (a frame-by-frame screening suggests that there weren't many) a quicker speed just wasn't credible. I slowed it down a bit at the end, where Noelle does that final exuberant leg swing, ending up cradled in the rather subdued "husband's" arms.

Below is a similar reanimation, done on a smaller scale, with the gengas. As these were sometimes quite faint, the action is a little fuzzier, but even at this earlier stage it hangs together surprisingly well.