Teak/Bibble: Syrius' Sidekick
Source: Movie
Layers: 1
No sketches available
Cel Number: A5
Standard size

No Background

Added 1/21/2012
Updated 11/16/2013

This finny character, named "Teak" [チーク, literally "Cheek"] in the original Japanese and "Bibble" in the dub, has a large part as Syrius' devoted companion. Somewhat bumbly at the outset, Teak turns out to be more observant and courageous than first appears, and his final sacrifice is one of the poignant moments of the film.

Here he is reacting to Syrius slowly coming to after his first encounter with Malta. "I saw fire..." he tells Teak, who is baffled. "Fire? What's that?" he replies. This cel appears at about 17:20 in the film.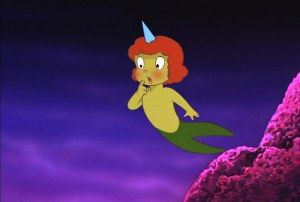 SENSEI CHECK!

The role was quite strongly cast: the seiyuu was Ikue Sakakibara, a well known J-Pop artist and idol with a run of top-ten songs. Starting the same year as this performance, she launched a successful career as a live stage actress, becoming nationally known for her performances in the title role of a Japanese adaptation of Peter Pan. So her performance in this movie is, from what I can tell, her one and only involvement in anime.