Muse OP
Source: TV
Layers: 1
No sketches available
Cel Number: A29
Standard size
Opening Cel

No Background

Added 11/22/2011
Updated 4/22/2017

Cut 26. In the second-story-arc version of the opening animation, Muse is given quite a conspicuous entry. First she floats up into the screen in extreme close-up, and then she does two rapid twirls, during which she moves farther into the background until she does a pretty pose in a spotlight with her "Queen of Spades" parasol. This nice cel shows her just starting the first twirl, so she is still very close to the "camera." But the image shows much more dynamic action than either the first or last sections of the cut. She seems to be flying with her arms open, Miyu-style, ready to pounce on some unlucky minor character. Sequence number: A29.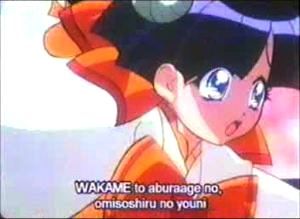 SENSEI CHECK!

Muse is an interesting and complex character introduced in the second story arc of the series. She is commissioned by Silky, now revealed as the series villain, to infiltrate Noelle and Yuusuke's class and use her shapeshifting powers to prevent the feather-brain from becoming a full-fledged angel. But her schemes, while clever, are continually undercut by her naïve and insecure personality. Many of her tricks would succeed if she could follow through with some of Miruru's feline malice.

But her heart is not in her job, but rather with winning the heart of her co-worker Eros. He, though, is infatuated with Silky herself, so Muse's love is doomed never to be reciprocated. (Unless we read the surprising final cut of the series as signaling their reunion after death.)

The character was cast very strongly: Sakura Tange, no less, who was at the time in the middle of creating Sakura Kinomoto, the lead role in Cardcaptor Sakura. There was a 5-month hiatus between the airing of Episode 46 (the end of CCS's second season and first story arc) and Episode 47 (the start of the third season and the "Sakura Card" arc). This is exactly when TnN was broadcast, so it seems likely that Tange fit this role in during a down-time period of CCS's production.

The character's emotions are as mercurial as her appearance, so Tange's virtuoso performance is one reason that this character remains memorable. Her rebellion against Silky is one of the powerful climaxes of the series' last episodes.




SENSEI CHECK EXTRA!

If you've ever wondered why Muse is always shown wearing a kind of hakama or formal gown decorated with spades from the common playing card deck, you're noticing a detail with a long history in gamblers' folklore. Spades (originally swords, or spadi in Italy where playing cards evolved), are a suit associated with bad luck, and the Ace of Spades is customarily referred to as "the death card" or "the coffin card" when it comes up in a deal.

In the opera Carmen, this is thought to be the card that the gypsy turns over when she tells her own fortune and recognizes that she is fated to die by her lover's hand. A theatrical story relates that Célestine Galli-Marié, the singer who created the role of the gypsy Carmen, used real playing cards on stage, shuffling and turning them over randomly while performing the scene. In one performance during the first run of the opera, she is said to have actually turned over the ace of spades at this point. She immediately had a vivid premonition of danger and had to leave the stage for a moment to regain her composure. That same night, the composer, Georges Bizet, died unexpectedly of a heart attack.

Muse, however, may be advertising herself as a Queen of Spades, another playing card that tokens evil and bad luck. The Russian author Nicolai Pushkin wrote a novella called The Queen of Spades and headed it with the epigraph, "The Queen of Spades denotes secret ill will." A nineteenth-century book on the significance of playing cards adds, "The Queen of Spades is a person not to be provoked with impunity, never forgetting an injury, and having a considerable spice of malice in her composition."

Certainly, given Muse's role as a troublemaker in the plot and her tragic fate at Silky's hands, you might say that both Spades are in play in her character.




Caution! Fussy Notes

As you can see from the sequence number, there are a lot of cels in this long but quick-moving cut, perhaps as many as sixty. So images from the first and last sections have come up for sale quite often and can be found in a number of collections. Two cels from the first part of the cut are held by Vapalla's cels, one very close to the start and also the A25, by Baka-Inu Cels (a very similar image) and by Galaxy Cauldron (likewise very similar). Otakusin has one cel from the twirly part, the A37 showing the end of her first spin-around as well as one from the end stage, the A57. Tictac's Corner also has the very similar A54. Finally, there another end-stage cel in Keys' Little Anime Cel Gallery.

Dang my contrarian collecting soul, I like my A29 Muse OP precisely because it is so uniquely different from any of these others.