Holo a bit offended
Source: TV
Layers: 1
Sketches: 3
Cel Number: A1 END
Standard size

No Background

Added 11/21/2011
Updated 11/16/2018

Episode 5 (Wolf and Lovers' Quarrel), cut 270. Holo has been rescued from captivity by Lawrence and his friends, who carry the two away in a covered coach. The two have a long intimate conversation, at the end of which the coachman interrupts and tells them that they are at their destination. "I reckon people who arrive with new business plans are bound to be a teeny bit unique," he adds. "Are you referring to my ears!?" Holo replies, a little offended. The driver touches his straw hat in apology, adding, "Seeing you two together makes me want to go back into business myself!" (Sensei too!)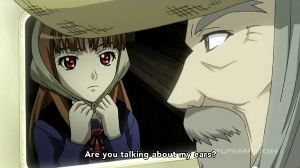 Above, I've featured a complete and amazingly detailed shuusei genga of the A1 layer of Holo. It is almost certainly the work of Kimiko Tamai, one of the episode's animation directors. (The other was the Korean artist Si Min Lee.) The style and attention to detail nicely match other animation sketches executed by Tamai for the episodes of Rozen Maiden that she directed.

The thumbs add the genga of this layer and the layout showing the overall composition with the coachman on top. It is interesting that in the genga and shuusei (and the A1 END douga as well) the image of Holo's head is completely drawn, ears and all. But (as you can see in the layout) from start to finish in this cut they were intended to be concealed by the driver's straw hat. So we never see them in the final broadcast footage -- but they have to be there or the coachman's comment makes no sense.

Details ... details.




SENSEI CHECK!

Kimiko Tamai [玉井 公子], animation director for this episode, had a brief but distinguished career in anime, beginning as a key animator for cel-based series such as The Legend of the Galactic Heroes (6 episodes) and Cardcaptor Sakura (4 episodes), then moving up to episode animation director. Her work on Rozen Maiden(2004) is amply documented by the many superb roughs she did for the three episodes (2, 6, and 11) that she directed. After Spice & Wolf, she gained more exposure as animation director for episodes in dark, psychologically intense series like Chaos;HEAd (2008) and Needless (2009), but with the latter series her work in anime production came to an abrupt end. A shame, as her work strikes me as being among the best in the business and a definite asset to the superb art of this series.


Click to open in new window