Kotomi Teases Tetsu (1): A1
Source: TV
Layers: 1
Sketches: 2
Cel Number: A1
Standard size

No Background

Added 11/20/2011
Updated 1/30/2018

Episode 5, Cut 203. In an earlier moment in this episode, the trickster Kotomi gets commissioned to tutor the (rather mature-looking) grade-schooler Tetsu in his summer studies. True to her playful personality, she's horrified when he sits down at his desk and starts to get out his school books. "You're not actually going to study, are you?" she asks incredulously, then bends over him to look at what he's doing, so that her cleavage is in his face. He gets up, stammering and blushing, which first surprises the lighthearted girl.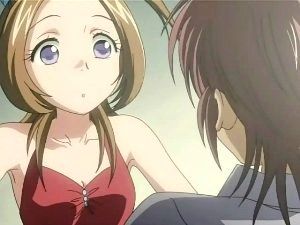 In the image above, she first looks puzzled by Tetsu's beflusterment; then the following cuts show her catching on and laughing at Tetsu's "kawaii" reaction. Finally, she roguishly suggests that they go sneak out the window and find something fun to do.

Featured above is Senior AD Ikuko Itou's fine shuusei rough of the opening key, labeled in her distinctive way, with the similar genga in the thumbnail.




Caution! Fussy Notes

This long cut (seven and three-quarters seconds according to the timing sheet) required ten gengas, seven of Kotomi (including a planned inbetweener and two mouth layers) and three of Tetsu. When I obtained it, the set was lacking the layouts and Kinoshita's roughs, though it did include five post-genga shuusei sketches by the episode's AD. It did contain a full set of senior AD Itou's fine shuusei roughs, all on light green paper, plus her eight post-genga shuuseis.

As Itou's shuusei roughs are so full of life, I've featured these on this page and on the next several devoted to this cut.


Click to open in new window