Pippi carrying her horse into Villa Villekulla
Source: Other
Layers: 1
No sketches available
Standard size

No Background

Added 8/3/2011
Updated 7/4/2016

Since Pippi's supernatural strength is one of her most prominent attributes, one of the most iconic images in all the adaptations show her nonchalantly carrying her horse over her head. This seems one of the most logical situations for her to do so: horses do not negotiate stairsteps well, and so it would make sense for Pippi to help out her friend by lifting him gently up and into their house.

In Swedish Pippi calls her companion "Lilla gubben," or "Little companion," though English translations render this "Old Man," "Alfonzo" or even just "Horse." Probably "Ol' Feller" would be a better equivalent.

This is one of the scenes for which Miyazaki made a preliminary drawing: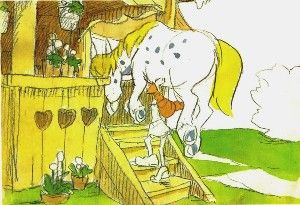 Both images show Ol' Feller relaxing as he's lifted up, gently flexing his legs just as a cat or dog would do in the same situation. The porch, with its scalloped ceiling trim, the hearts carved into the sides of the porch, and the omnipresent flowerpots, is the same in both images, and these details also appear in other, more detailed watercolor studies Miyazaki did of the Villa Villekulla.

The "original" Villa Villekulla once stood in Visby but was moved to the suburb of Vibble to facilitate filming of the 1969 TV series. It was one of the places Miyazaki visited for visual inspiration. But his imagining of the anime Villa is much more fantastic, an eccentric mix of Scandinavian fairy-tale castle and pirate ship.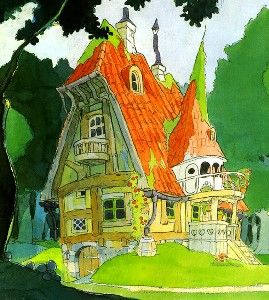 The wizard Howl would feel quite at home in this Villa, one suspects.

In all of these you can see the elaborate, three-dimensional detail of the porch, with the right side of the house visible beyond it. Notice how the roof of the porch becomes a semi-circular balcony with a railing that suggests the top deck of a ship. It is interesting, though, that the rails along the stairs, visible in both of Miyazaki's preliminary studies, have been removed in the test image featured above. Perhaps this was to provide a perspective that would let Pippi look sideways at the viewer and show off her absurdly large clogs.

When photographed, the two top layers (one with Pippi and Ol��� Feller and one with the photocopied sketch of the porch) were not quite flush with the watercolor background. See the first thumb for a detail from the test. In this extreme enlargement, you can see the cel of the horse and the photocopy of the sketch casting shadows on each other and on the sheet on the bottom. That shows that the original setups had three layers, the "cel", the photocopied sketch on acetate, and the watercolor background.


Click to open in new window