Pippi getting out of bed
Source: Other
Layers: 1
No sketches available
Standard size

No Background

Added 8/3/2011
Updated 7/4/2016

Many of Miyazaki's sketches show Pippi doing normal things around the house, especially in the kitchen, usually in a hyperactive, ebullient mood. This quiet image, however, shows her peacefully getting dressed just after arising and washing at the basin on the washstand. She is patiently braiding up her hair, and it is interesting that though her hair is half in disarray, it already stands out stiffly on the left side, even before Pippi gets it into tight braids.

A more preliminary sketch by Miyazaki, reproduced in the art book, took a different approach, showing Pippi in typical fast-forward motion from her first waking moment.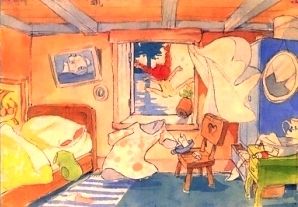 There she seems to shed her clothes without effort before leaping out the window outrageously butt-naked into the lake below. Perhaps that action would have seemed a bit too forward for Astrid Lindgren or for the Japanese backers they were trying to impress. So the test shows Pippi sleepily and discreetly half-clothed with just one long stocking half on, in a way appropriate to a morning washstand ablution.

Note too that the rooms in both the sketch and the cel set-up are different in some details but the same in layout. The bed, pillow, and blue-striped foot rug are matching, and even some of the paintings on the wall, including the ship in full sail above the headboard and the Viking longboat at the left margin are identical. Visit the thumbnail for a closer look at some of this detail. Miyazaki seems to have had an intensely vivid image of what Pippi's villa looked like, both inside and out, and so the surprisingly detailed images look forward to the future works that realized locations in the same lucid-dreaming way.


Click to open in new window