Ouch! Pippi and the candle
Source: Other
Layers: 1
No sketches available
Standard size

Original Matching Background

Added 8/1/2011
Updated 7/4/2016

This moody shot shows poor Pippi in some discomfort putting her right big toe into her mouth as if she's somehow burned it on the candle sitting in the middle of the floor. The complicated pose that results is really very well handled, with the girl using both hands to pull her foot close to her mouth. Along with Pippi, the candle flame, the washtub under Pippi, the pitcher on the floor, and the kettle on the table all were painted on a "cel" layer, making them visibly more vivid than the rest of the watercolor scene. I've again provided an enlargement in the thumbnail.

Whatever has happened, she and the candle evidently make peace soon after. There is another test out there, as a scan of it has popped up on Miyazaki tribute pages.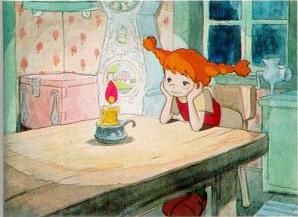 This seems to take place in the same room, and notice the way in which the hair seems to cast a thin shadow on the background behind Pippi's head. Some of the "cel" layers in this set also cast shadows when they were not held down tightly against the background when they were being photographed.

Also notice that the image has somehow gotten flipped: the numbers on the clock are backwards and the handle for the grinder on the counter is pointing the opposite way from the image featured above (which is in the correct orientation). This is a simple mistake to make when working with transparencies rather than with real cels, as slides look the same whichever side you look through.

So this image was, like the one featured above, a photograph of a complete setup with a cel layer that included Pippi's upper body and the candle flame, which has more presence than the candlestick below it.

I don't know where the original for this image exists. It was reproduced on The Hayao Miyazaki Web, and has shown up in other sites as well. I'd assumed that it was part of the 1983 Hayao Miyazaki Image Board publication, but when I obtained a copy of this rare book, it was nowhere to be found.

One wonders how many more "cel" images were created for the Pippi project. The two above are so evocative, that one wishes that many more were available – or, alas, that Lindgren had taken a chance with these two unknown artists, full of youth, ambition, and talent, and that Miyazaki's international fame had come two decades sooner.


Click to open in new window