Souseiseki attacks Suigintou: A2
Source: TV
Layers: 1
Sketches: 3
Cel Number: A1, A2
Standard size

No Background

Added 7/14/2011
Updated 1/25/2016

Cut 14. Jun races to Shinku's side and protects her with his medium's power. The villainess, in response, uses her full strength and in so doing fails to guard the Rosa Mystica spirits she has appropriated from the twin dolls Suiseiseki and Souseiseki. Seizing their chance, the twins reclaim their spirits and at once use them to mount an attack on their enemy, giving Jun a chance to take the injured Shinku to a safe haven.

The spirits turn into tools appropriate for the gardener dolls: Sui has a watering can that makes plants grow to enormous size, while Sou has this lethal set of pruning scissors. Here we see her diving at top speed, swinging the scissors over her head to slice through one of Suigintou's crow-feather tentacles.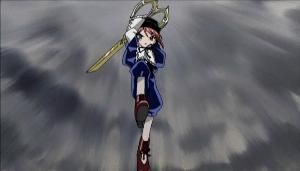 This small sketch set planned out a cut that took only half a second to screen, so the quality and intensity of all the sketches is remarkable. Featured above is the A2 genga, with the A1 and A2 layouts added in the thumbs. (The small A1 genga is not imaged.) The A1 layout is interesting in showing the flaring background used to accent the speed of Sou's attack.


Click to open in new window