Tonde Buurin OP: Karin Chasing Buurin
Source: TV
Layers: 3
No sketches available
Cel Number: A3, B3, C3
Standard size
Opening Cel

No Background

Added 7/14/2011
Updated 4/21/2017

As the opening animation moves to its conclusion, we see Karin chasing her magical avatar through a field full of flowers. She makes a grab for Buurin's cape, and then the two fly off together.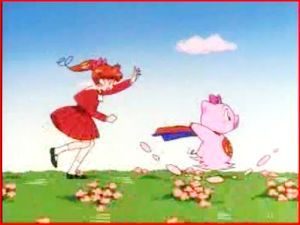 Vapalla's cels has a nice A4, B6, C5 set that comes in shortly after this image.