Henshin: Leaning into It
Source: TV
Layers: 1
No sketches available
Cel Number: B24
Standard size

No Background

Added 7/14/2011
Updated 4/21/2017

The first phases of the henshin go in a rapid, herky-jerky fashion, but once the costume and cape materialize, it slows down a bit, and the perspective closes back to a close-up of Karin's face. Her eyes shut, as if she is deep in dreamland, she moves from right to left, and the motion slows nearly to a halt at this moment, implying that the magical girl is embracing, even "leaning into" her Pig Girl alter ego.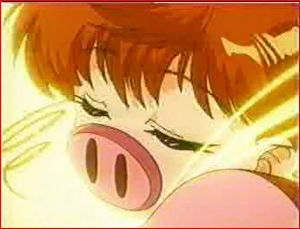 After picking up four nice cels from this sequence in 2006-07, I'd nearly stopped looking for more, until a small, nice cluster of cels arrived on the market in Spring 2011. This fine portrait of Karin in mid-transformation, somehow moving in spite of the absurd magical snout, is a welcome addition to this gallery.