Ritsuko
Source: TV
Layers: 1
Sketches: 3
Cel Number: A4
Standard size

No Background

Added 5/29/2011
Updated 3/21/2015

Episode 4 (Mariel), cut 46. This is Ritsuko, an immortal magic user, who is serving as a court alchemist and healer in a royal palace. Here she is chatting with the princess Mariel before a big court ball where she is to meet potential spouses. (As in the fairy tales, this is not something that a prince or princess looks forward to, and in fact the event ends badly.) This scene, however, is lighthearted, as the image shows, and Ritsuko's character and costume design show an exuberance that attracted me to this lot even before I did the hacking necessary to identify the character.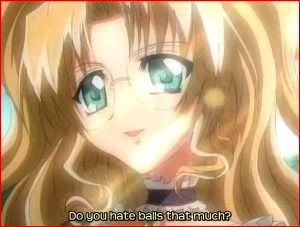 The cut begins with the back of this character's head entering the screen from the right. All we see at first is her elaborate hairstyle; then she turns rapidly and asks Mariel if she really dislikes fancy court balls so much. The image above is the genga version of the A4 key that ends the cut. The A1 and A2 show only her hair, and the A3 is a partial, showing how her curls react to her quick turn. There is a planned inbetweener showing her in profile, but as this image is the best one, I've imaged that one alone.




Caution! Fussy Notes

It does show a remarkable amount of artistic work, though. The sketch set came with a thick set of preliminary and correction drawings showing that the cut gave the studio a surprising amount of trouble. The process seems to have begun with a very sketchy genzu on pink paper that defined both the position of Ritsuko's head and the angle from which we saw it.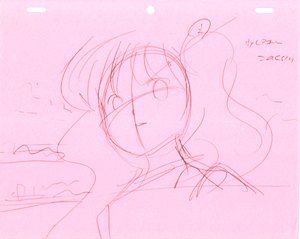 You'll note that the character seems to have her head cocked back, or else she is looking down at Mariel as she says her half-mocking line. This seems to be the way the layout artist took the sense of the genzu: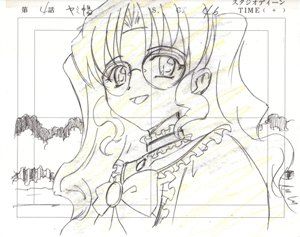 And the animation director for this episode (Takaaki Sekizaki) followed line in the rough: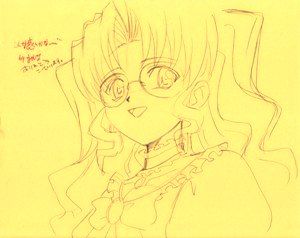 But this didn't look right to the supervising director, who responded with another genzu changing the perspective of Ritsuko's head and shoulders:




AD Sekizaki responded with a more engaging second rough sketch (first thumbnail) which led to the fine genga image seen above. However, this too was viewed critically, and if you click the second thumb, you'll see the AD's nearly full shuusei that changed nearly every detail of Ritsuko's expression, costume, and hairstyle. Even that wasn't quite right, for the sketch pack came with a partial "shuusei no shuusei" (corrected correction, not imaged), which spent a lot of time on the bow on Ritsuko's chest and the ruffles of her costume. (Note that, at least in the fansub, all these details fell outside the safety and were never seen by the audience when the series was broadcast.)

This seems an unusual amount of attention to a secondary character, which suggests that the artists were careful to get details like these right, or that the character design was not quite settled, or perhaps both.

Takaaki Sekizaki has had extensive experience as a key animator, working on, among others, Devilman Lady, Squid Girl, Tiger & Bunny, and Tegami Bachi/Letter Bee. The artist has had more limited assignments as episode animation director, notably for Jojo's Bizarre Adventure.

Ritsuko is quite a marginal character, appearing only in this episode and in Ep. 12. It is interesting that Studio Deen did not stint on the voice acting, giving the part to Kikuko Inoue, a distinguished seiyuu best known as Belldandy in all the Ah My Goddess! versions (OVA, movie, TV series).


Click to open in new window