OP1: Suigintou
Source: TV
Layers: 1
Sketches: 2
Cel Number: A8 (genga), A29 (douga)
Standard size
Opening Cel

Key Cel
No Background

Added 5/21/2011
Updated 9/17/2016

After a series of cuts showcasing the two protagonists, Shinku and Jun, the scene shifts to a dark nightscape, and this sinister figure slowly turns to the camera. It's Suigintou, the powerfully malicious villainess of the series, with her crow-feather cape around her shoulders.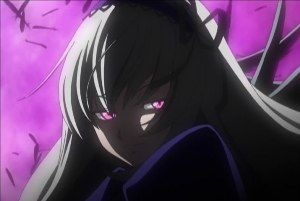 Yowzers! I'd seen gengas from this OP sequence go up one at a time, but this key, the A8, is the first in which we see her face clearly. In my eyes it's the best of the whole lot. In fact it looks far better as a sketch than as an image on the screen: the animator's precise strokes capture Suigintou's smug smile and hooded eyes perfectly, while the draftsmanship of the fluttering ribbons and complex lace ribbon pattern is dead on. Notice that the screen cap is so dark that there is no way that viewers could see these details, much less appreciate their quality. Plus in the standard OP, the image is overlaid with credits to the studio staff.

Yet these details, somehow, had to be there in the art, so that this first glimpse of Suigintou's face would raise that inexplicable cold shiver– even on the dark screen and through the clutter of letters in the titles.

This set also came with the matching A29 douga (see thumbnail).




SENSEI CHECK!

The name Suigintou (水銀燈) literally means "mercury vapor lamp," or more colloquially, "dawn-to-dusk light," because their brightness and long life make them ideal for outdoor street and security lighting. The character is in fact first seen during the OP perched atop one of these street lamps.

Intensely blue-green in spectrum, however, they tend to make people standing under them look eerily pale and "bloodless." This combination of ubiquity and eeriness has made them a common image in Japanese songs and poems for the lifelessness of modern existence.

She is also the only character given a cloak of black crow feathers. All the dolls can fly when necessary, but Suigintou can use the feathers as sinister calling cards, as weapons, or as remote control devices to manipulate other objects, such as the sinister clown doll that tries to kill Jun in the opening episode. The "wings" also can morph into creatures like wolves and attack the other dolls.

This side of Suigintou probably reflects the Japanese attitude toward the jungle crow (Corvus macrorhynchos), a recent introduction to the country from Southeast Asia. Its numbers have exploded recently, especially in urban areas (where you'd see mercury-vapor lights as well).

Jungle crows, unlike the native carrion crows, are highly aggressive pests, ripping open garbage bags, stealing metal clothes hangers from clotheslines to build their nests, and pecking small children in the face, then snatching their candy.

They are highly intelligent, hang out everywhere you'd rather they didn't, and are universally hated, just like this character.

Rie Tanaka, the character's seiyuu, got high marks for her thoroughly despicable performance and reprised the character in a number of original drama CDs, web radio performances, TV commercials, and even a "Suigintou Voice Alarm Clock" (that really is scary!)

One would think that such an alarm clock would make a good scarecrow, but one suspects it would tend to attract the pests rather than deter them.

Tanaka is also well known as the voice of Chii/Black Chii in Chobits and of Lacus Clyne, "Songstress of The Enemy Forces," in the Gundam SEED complex.


Click to open in new window