Ageha startled
Source: TV
Layers: 1
No sketches available
Cel Number: A2
Oversize, 12W x 10H

No Background

Added 5/21/2011
Updated 12/30/2017

Here is a nice image of Ageha showing her butterfly wings. She is perched for the moment, but obviously startled by something. Setting aside Fabio Cassella's criticism of the animation quality ("pretty basic," at times "downright crude"), the posing of the character actually seems quite natural. The wings are not just stuck on but seem fully integral to the character's body and pose. Sequence number: A2. The next cel may come from the same cut, showing her fluttering up and dodging an attack.

A very similar cel of Ageha in the exact same pose was featured in the screen cap gallery on the back of the LD release's Volume 3: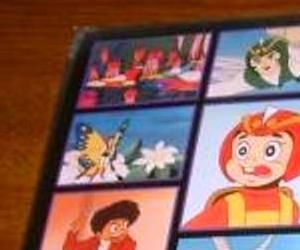 SENSEI CHECK!

If you look at the previous item, you'll see that the spots on the wings are not the same. This cel seems to show the most common design: blue lacing along the wings' edges, yellow spots with a red dots inside, and, on the largest dot at the top, a small black dot inside the red dot. Also notice that her "swallowtail" at the bottom of both wings has an elongated red spot (no yellow border).

But this design element never seems to have been quite fixed by the studio. The previous cel gives Ageha green spots with pink dots, and the biggest spot is green/pink/red, not yellow/red/black.

A glance at Microid S merchandise shows a similar slippage in character design. Here's an image from a picture book that accompanied a CD with a spin-off drama: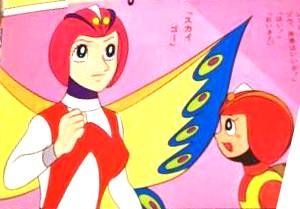 Green spots, red dots, no larger spot at the top.

Here's another from a picture book that held a vinyl 33 rpm recording: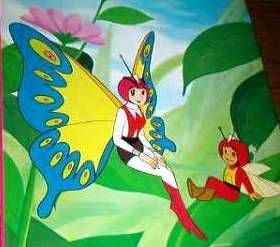 Green spots, red dots, biggest spot is green/red/black. (But notice no red spot on the "swallowtail" at the bottom of the wing, as in the cel.)

Here's an image from the recently released DVD box set.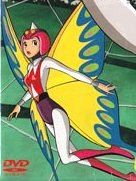 Much darker green spots, red dots, no spot on the "swallowtail."

Finally, here's a mobile sold as a spin-off toy: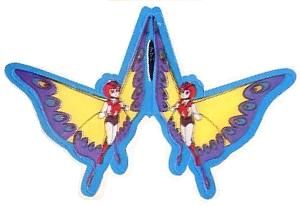 Purple lacing on the wing edges, blue spots, red dots, biggest dot is blue/yellow/red. Red spot on the "swallowtail"

For comparison's sake, here is a good photograph of a real Asian Swallowtail butterfly:





You can see the iridescence on the lower wing that gave the character designers the inspiration for Agaha's colors. Other images I've seen of this anime character show that on the reverse side of her wings the border around the edges is black, not blue, just as in the real insect. (Usually: but I've seen images of Ageha's backside with blue lacing too.)