Sakura in the Pink Kitty Suit
Source: TV
Layers: 1
No sketches available
Cel Number: A4
Standard size

No Background

Added 2/27/2003
Updated 9/25/2013

Episode: 7 (Sakura's Rival Appears). Sakura gets ready to seal The Thunder. Sequence number: A4.

Cels from this sequence have shown up in several other galleries. Rallihir's Cel Gallery, in fact, has the very next cel in this sequence, the A5, while Aeris Cel Gallery has the A7.

But this image, the first in which we see Sakura's full face, is the most vivid of the group. Nabbing it on Yahoo Japan (on a cold winter's Sunday morning of January 26, 2003) was the mother-of-all-wishlist nabs for me.

I recall the day vividly: I'd gotten an especially severe winter cold, and was spending most of my time in bed. But when I saw this cel come up for sale, my heart stopped. It sat at a modest 5000 yen opening bid for a long time, then, the night before the end, it began inching up in price.

On Sunday morning, I was totally under the cold's power, sniffling, reeling, and groggy. Not so groggy, however, that I didn't know when the auction would end. I dragged myself out of bed shortly before the end, bid every cent I could scrabble together, and counted it down. No bargain ... but ... (arigatou, Celga no Kami!) ... sold to Sensei!

Quite a few other RS curators were also in the game, I later learned. One was quite philosophical about the loss, commenting, "it's still just a cute Sakura cel (yes, with an outfit), but a Sakura cel."

I replied, "Oh, heart, be still! It's Sakura-chan: she's pink, and she's p***ed! This is going to be one of the undimmed stars of my collection."

And indeed, after ten years, it remains for me the single most cherished cel I own.

Many people have seen the image, in fact, perhaps without even knowing the series it comes with. I turned my scan into a t-shirt that summer, and as it was comfortable, I wore it lots of places until it grew too shabby even for the garden. Oddly, whenever I went into a book store, a solicitous employee would make sure I knew where the "Manga" section was. I used to wonder why?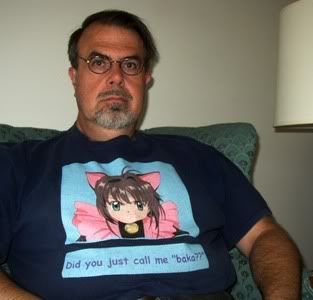 SENSEI CHECK!

Oddly, at some point in this cut, as Sakura raises her wand to seal the Card, the sequence numbers for some reason start over. The Black Staff has a cel from later on that is also labeled the A4, and Peggichu's Cel Gallery has a cel close to this one that says it's the A7. wndrkn's anime cel gallery also has two cels from the end of this cut.