Natsuki Entering the "What If..." Fantasy Sequence
Source: TV
Layers: 1
Sketches: 1
Cel Number: A10
Standard size

Copy Unmatching Background

Added 3/2/2011
Updated 2/17/2013

Episode 25: Which Do You Like? Cut 67. Natsuki's powers have grown to the point that she is now able to open or close doorways between alternative worlds. One of the series baddies then manipulates her concern over a fellow bounty hunter, who's been critically injured by a monster. He leads her to a dimensional doorway and tells her that closing it will solve the problem forever. Monsters will live in their own world, and humans will exist in a world safely by themselves.

Natsuki begins to close the doorway ... and then ... suddenly we see a rapid montage of photographs showing her as a normal high school girl. Then this cel fades in from a white-out, lingers an instant, and Natsuki's form slides quickly back into a dazzling white background. We are into the "What if..." alternative narrative, so we can view a day in the life of Natsuki and the other characters, living as normal humans in a mundane world like our own. Sequence number: A10.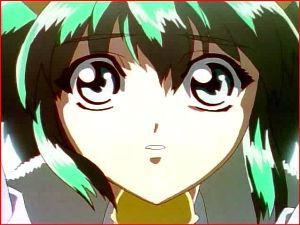 This image appears twice in the episode, first here, then a second time, after her "normal day" has brought Natsuki to a final decision. She attempts the high jump that she'd missed earlier in this interlude, and this time she simply keeps travelling up and up and up and up, into a dazzling white-out that leads once again to this image. Interestingly, the cut operates the same way both times: a quick pan out from her face. But the second time we see more of the animation, which begins with an intense close-up of Natsuki's eye. (The left one, as usual with "eyeball zooms" like this.)

Also interesting is the way this longer pan-out doesn't go at a steady rate, but visibly lingers around this image, speeds up, and lingers once again when we see her whole uniformed body, pulsing with energy and ready to bring the story arc to resolution.

The cel came with a copy background that is not matching (the original used a light-blasted white setting). But it flatters the odd color balance of the cel, so I've used it in the scan.


Click to open in new window