A Disgruntled Sakura
Source: TV
Layers: 2
Sketches: 1
Cel Number: A1 B1
Standard size

Key Cel
Original Matching Background

Added 1/6/2011
Updated 8/23/2013

Ep. 23: Sakura Becomes Insane, cut 35. Asked why she is in such a bad mood, Sakura explains that she is annoyed to distraction by the way her husband Sakunoshin keeps talking about his wife Kasumi. Even though her rival lived in the medieval period from which the warrior was accidentally time-skipped, Sakura still cannot help feeling Kasumi's presence at every turn.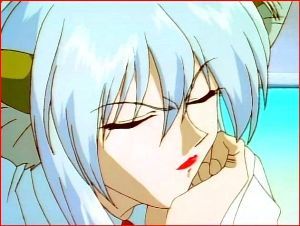 This pretty set-up has experienced severe line fading, especially in Sakura's silky white hair, but it is still is an attractive set-up.

Click the thumb for the layout, which is similar in style to the copy layout that I got with a sketch set from later in the same episode. It may be the work of animation director/storyboard artist Issei Kume. The layouts from Episode 13 (Cat's Bell), which Kume also storyboarded, showed a similar trend toward a simple, "cartoonish" approach. There, as here, the final image is much more elegantly realized.


Click to open in new window